NEWS IN BRIEF


SHA trail grants propel Cycle Maryland program
Gov. Martin O'Malley recently announced the recipients of more than $1 million in 2013 grants through the Maryland State Highway Administration's Recreational Trails Program. The 42 grantees – counties, municipalities, government agencies and nonprofit organizations – will use the funds for an array of projects that include the construction of new trails and the maintenance of existing ones. Awards range from $5,000 to $64,000.
"Trails provide connections and help people enjoy Maryland's natural treasures, reducing the impact on the land and improving fitness and well-being," said Gov. O'Malley. "These funds will support the development of a statewide trails system that complements Smart Growth, sustainable communities and enhanced quality of life for all of Maryland's citizens and visitors."
The State Highway Administration administers the National Recreational Trails Program in Maryland by matching federal funds with local funds or non-monetary contributions in order to implement trail projects. Many of the projects advance Gov. O'Malley's Cycle Maryland program, which promotes bicycling as a clean transportation alternative and as a way to encourage a healthier lifestyle for Marylanders.
View a listing of all the grantees and their trail projects.
Tourism awards salute industry programs across state
The Maryland Office of Tourism, along with the Maryland Tourism Development Board, announced the winners of the 2012 Maryland Tourism Awards at a Nov. 15 luncheon during the 32nd annual Maryland Tourism and Travel Summit (MTTS), held Nov. 14-16 at the Hyatt Regency Chesapeake Bay Golf Resort, Spa and Marina in Cambridge. The awards honor achievements that promote tourism's economic impact, green/sustainable tourism, cultural-heritage tourism and Maryland's image as a destination.
Award presenters included: Christian Johansson, secretary, Maryland Department of Business and Economic Development; Hannah Byron, assistant secretary, Maryland Division of Tourism, Film and the Arts; Margot Amelia, executive director, Maryland Office of Tourism; and Greg Shockley, chair, Maryland Tourism Development Board.
Award recipients are:
Kim Shirer, Allegany County Department of Tourism, and William Atkinson, Maryland Department of Planning, accepted the Economic Engine Award for the Trail Town Program/Certified Trail Friendly Program. The program has promoted increased spending by users of the Great Allegheny Passage Trail at area businesses.
The Star-Spangled Sailabration Marketing and Media Committee was named winner of the Visit Maryland Award. Sailabration, the week-long June launch of the War of 1812 bicentennial commemoration, generated an economic impact of $166 million and attracted more than 1.5 million visitors.
Eric Lowery, president of the Frederick Douglass Honor Society, received a Cultural Heritage Tourism Award for the Society's efforts to produce a three-day celebration honoring its namesake, a native of Easton, and the heritage of the local African-American community. The Society partnered with both the town of Easton and Talbot County.
Susan Trail, superintendent of Antietam National Battlefield, and Charissa Beeler Stanton of the Heart of the Civil War Heritage Area, jointly received a second Cultural Heritage Tourism Award. The Newcomer House at Antietam serves as an exhibit and visitor center for the Heart of the Civil War Heritage Area.
And, Nicole Hock and Peter Mangione, representing Turf Valley Resort, and Joan Rosati of the Home2 Suites by Hilton in Lexington Park, were the two recipients of Green/Sustainable Tourism Awards. Turf Valley's sustainability program includes the composting of 100,000 pounds of solid food waste, reducing carbon emissions and extensive recycling. The Hilton property, the first Silver-rated LEED (Leadership in Energy and Environmental Design) property in St. Mary's County, is projected to save 32 percent in annual energy costs.
The Maryland Tourism Council also presented its annual tourism awards during a Nov. 15 MTTS awards banquet. Recipients of those awards are:
Sandy Turner, Tourism Person of the Year
Wini Roche, Tourism Advocate of the Year
Beverly Brown, Audrey Davenport Hospitality Person of the Year
Eric Masterton–Mott, New Professional of the Year
Maryland Park Service, Visionary Impact Award
Denise Konopacki, Judges Award
Joe Fernandez, Maryland Association of Destination Marketing Organizations Award
The Ocean City Hotel -Motel - Restaurant Association, Worcester County Tourism and D3 Corporation, Best Cooperative Partnership
Howard County Tourism and Promotion, Best Product or Event (Small)
Talbot County Office of Tourism, Best Product or Event (Medium)
Star-Spangled Sailabration, Best Product or Event (Large)
Eclectic Graphics, Best Printed Promotional Material Award
Howard County Tourism and Promotion, Best Destination Guide
Montgomery County CVB, Best Digital Campaign
Howard County Tourism and Promotion, Best Website
Star-Spangled Sailabration, Best Use of Social Media
Six Flags America, Best Media and Public Relations Campaign

Maryland tourism officials address social-media forum
Three social-media practitioners with ties to Maryland's tourism industry spoke about their work during a panel discussion at the third annual Social Media Tourism Symposium, Nov. 7-9 in El Paso, Texas.
The trio of experts – Bryan Barnes, digital marketing manager, Maryland Office of Tourism; Michelle Kershner, marketing and communications manager, Tourism Council of Frederick County; and Shannon Morgan, senior editor, online media, Maryland Life magazine – discussed how they have achieved "high-impact, low-cost" social-media opportunities at their respective organizations.
More than 200 tourism professionals who are involved with social media attended the conference. Think! Social Media, an international digital-marketing agency headquartered in Vancouver, Canada, hosts this event.
Southern Maryland farm guide features holiday offerings
A new directory of more than 60 family farms and agriculture-related businesses in Anne Arundel, Calvert, Charles, Prince George's and St. Mary's counties is available from the Southern Maryland Agricultural Development Commission. The guide, Farms for the Holidays, includes information about where to find locally-grown Christmas trees and holiday décor, gifts and crafts, and local produce, meats, seafood and wines. View the guide online, or visit the SMADC web site for locations where the guide is available and links to regional farms and retail outlets.
Ocean City group honors Shockley for civic service
Greg Shockley, owner of Shenanigan's Irish Pub in Ocean City and chair of the Maryland Tourism Development Board, was honored by the Ocean City Hotel-Motel-Restaurant Association for his service and contributions to the local community.
The Paul Hazard Award, presented at the association's Nov. 7 dinner meeting, is given to association members only in years in which a recipient is deemed worthy. Shockley is the 18th recipient in the award's nearly 40-year history. The last award presentation was made in 2005. Paul Hazard was owner of the former Stardust Motel in Ocean City. He was elected president of the association in 1973, but passed away before assuming that role.
View an Ocean City Today article about the award.


New projects: 'Eat, play and stay in Baltimore County'
The Baltimore County Commission on Arts and Sciences is planning two initiatives to promote visual and performing arts, sciences, history and humanities programs in the county. A new web site, launching in early 2013, features a calendar of programs and events that encourage visitors to "eat, play and stay in Baltimore County." Business owners and event organizers can access the calendar to add, edit and delete their listings. The commission is also working with the Baltimore County Public Schools Education Channel to produce a quarterly arts and culture TV show that will air on Comcast's Baltimore County network and YouTube.
For more information, call or e-mail Fronda Cohen, commission director, 410-887-8032, or Majorie Hampson, director, Baltimore County Tourism and Promotion, 410-887-2470.




New winery opens in Western Maryland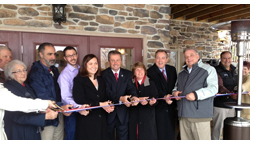 Washington County's Red Heifer Winery held its official opening on Nov. 27. The winery is located on 100 acres of family-owned farmland between Smithsburg and Cascade on Raven Rock Road. On their web site, owners Kevin and Yvonne Ford say "the sloping hillside (at an elevation of 1,500 feet) with a southeast orientation is the perfect location for growing grapes." The winery is open Thursday through Sunday (by appointment on Thursdays and Fridays in January, February and March). Call or e-mail the winery, 301-824-5210, for information. Red Heifer joins Knob Hall Winery and the future Big Cork Winery on the Antietam Highlands Wine Trail.
ALTA Awards concert pays tribute to bluegrass musician
Maryland Traditions, the folklife program of the Maryland State Arts Council, presents its 2012 ALTA (Achievement in Living Traditions and Arts) Awards on Dec. 1 during a free-admission ceremony and concert at the Montgomery College Cultural Arts Center (Takoma Park-Silver Spring campus). The awards recognize outstanding stewardship of living traditions in Maryland in three categories: people, place and tradition.
The concert honors Mike Auldridge, co-founder of a Montgomery County-based bluegrass band, The Seldom Scene. Auldridge received a National Heritage Fellowship from the National Endowment for the Arts in June for his contributions to the development of contemporary bluegrass and country music. He is a celebrated musician, known for his skillful playing of the Dobro, an acoustic guitar that sounds like a banjo because of its metal resonator.
A musical tribute to the late Joe Byrne, founder of J. Patrick's Irish Pub in Baltimore – a popular venue for traditional Irish music – is also scheduled that evening. Byrne received a 2008 ALTA (place) Award for J. Patrick's.
Call the Montgomery College box office, 240-567-5775, to reserve free tickets for this event.
Flag House screens 1812 flag documentary
A screening of Anthem – the new documentary film that tells the story of The Star-Spangled Banner and explores the intersection of music and patriotism during the war of 1812 – will be presented at The Star-Spangled Banner Flag House, Monday, Dec. 3 at 6 p.m. A session with the filmmaker, Mark Hildebrand of Make Your Mark Media, precedes the screening at 5 p.m. A panel discussion and audience Q&A follows at 8 p.m. The panel includes musicologist David Hildebrand and historian Ralph Eshelman, who co-wrote In Full Glory Reflected. Admission is $5. E-mail Maryland Public Television (MPT) or call 410-581-4349 to RSVP by Nov. 29. The film airs on MPT, Dec. 19 at 9 p.m., and on MPT2, Dec. 21 at 11 p.m.
Holiday train exhibits open across state
This is the season to indulge your nostalgia for model trains. A variety of train displays are now open around the state. Venues include Hagerstown Roundhouse Museum (Washington County); B&O Railroad Museums in Ellicott City (Howard County) and Baltimore; The Fire Museum of Maryland in Lutherville (Baltimore County); Sudlersville Train Station Museum (Queen Anne's County); Cambridge Rescue Fire Company (Dorchester County); and College Park Aviation Museum (Prince George's County). Check individual locations for exhibit details.