NEWS IN BRIEF

Gov. O'Malley visits VEEP set
Gov. O'Malley was joined by local crew, cast and small business owners during a visit to the set of the Emmy award-winning HBO series, VEEP, to highlight the positive economic impact of Maryland's Film Tax Credits program.
"Working together with our forward-looking colleagues in the General Assembly, we've not only expanded tax credits for quality television shows like VEEP, we've created more job opportunities for more Marylanders," said Gov. O'Malley.
The film tax credit has provided 2,500 Maryland crew members, cast, and extras with full-time jobs and utilized a combined 6,000 Maryland businesses since the program went into effect in 2011.
The estimated economic impact of the Maryland Film Tax Credit is $226 million. VEEP's first season had an estimated impact of $30 million, with 978 Marylanders hired as crew, cast, and extras. Additionally, close to 1,200 Maryland businesses and vendors saw purchases and rentals from the production.


Give the Gift of Art this Season
Travel to one of Maryland's 22 Arts & Entertainment (A&E) Districts this holiday season to purchase original works from the artists. A&E Districts are in cities and towns that span the state, from Western Maryland to the Eastern Shore.

The 22 districts are vibrant homes for artists that produce and sell original work alongside art and cultural attractions that include museums, galleries, theaters, book shops, art centers and more.
"A variety of family-friendly entertainment and the chance to buy locally hand-crafted art and goods make Maryland's A&E Districts an ideal holiday destination this season," said Hannah Byron, assistant secretary, Tourism, Film and the Arts, Maryland Department of Business and Economic Development.
Holiday activities, performances and arts markets in the A&E Districts of Maryland's five regions can be found here.


Maryland Main Streets: An Avenue to Holiday Charm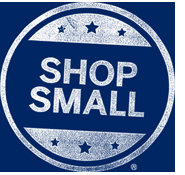 Enjoy the shopping and revitalization along Maryland Main Streets – a network of 26 downtown communities across the state where you're apt to find horse-drawn carriages and strolling carolers amid holiday celebrations. You'll also discover locally-owned shops with merchants eager to help you, with many offering discounts to help with your holiday shopping. Each Main Street – on the Eastern Shore, in Mountain Maryland, and the regions in between – is a gateway to the authentic treasures of Maryland.
"On Main Street you'll find locally-owned shops and boutiques, art galleries, bookstores and antiques. And there are Main Street restaurants, diners, pubs, and cafes for every taste — whether you are a foodie looking for the latest culinary experience or just looking to enjoy the local cuisine," said Margot Amelia, executive director, Maryland Office of Tourism. "With Small Business Saturday on November 30 and the Main Street Holiday discounts (including Season's Eatings! Coupons), there never has been a better time to shop on Main Street!"


Maryland Civil War Trails App Updated
The Maryland Office of Tourism released a new chapter, or "appter," within its Maryland Civil War Trails mobile app for smartphones and tablets prior to the 150th anniversary of President Abraham Lincoln's Gettysburg Address.
Travelers can use the interactive appter to identify and map specific sites in Maryland where Lincoln visited during pivotal times of his presidency. The appter encourages travelers to explore historic sites and museums that tell Lincoln's story and honor his legacy.
Download the Maryland Civil War Trails free app on iTunes for Apple products and Google Play (Google's app store) for Android products. A convenient link to both stores may be found on the home page of visitmaryland.org under the Civil War Crossroads link.
Tanger Outlets at National Harbor Opens
Prince George's County is anticipating a big economic boost just in time for the holiday shopping season with the opening of the new Tanger Outlets at National Harbor on Nov. 22.

The new Tanger Outlets features 85 designer outlet stores. Initial estimates project that the center will create an additional $6.5 million dollars in annual sales tax revenue for the state.
"The opening of the Tanger Outlets National Harbor will have a major economic impact on Prince George's County and the State of Maryland. These outlets will attract regional visitors, offer wonderful opportunities for our residents to 'shop local,' and, most importantly, create jobs for thousands of Prince George's County citizens," said Prince George's County Executive Rushern L. Baker, III in the company news release.


Amelia addresses OCHMRA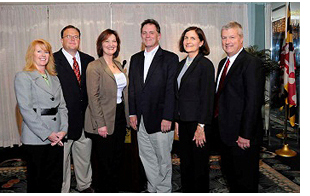 Margot Amelia, executive director, Maryland Office of Tourism had the opportunity to address an audience of 160 at the Ocean City Hotel Motel Restaurant Association's (OCHMRA) Fall Meeting. Ms. Amelia provided information about the state's tourism economic impact and visitor statistics. Pictured: Susan Jones, executive director, OCHMRA; Gary Figgs, Seacrets; Margot Amelia; Greg Shockley, chair, Maryland Tourism Development and Shenanigan's Irish Pub; Caryl Cardenas, Park Place Hotel; and Bob Torrey, Happy Jack Pancake House.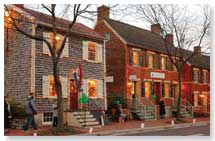 Frederick Main Street Shopping Spree Weekend Sweepstakes
Enter to win a weekend getaway, gift card, food tour and more! Hurry, entries must be received by December 17, 2013.
Mark your calendar for Tourism and Arts Advocacy Days
Advocates from across the state will voice their support for Maryland tourism and arts funding during meetings with state legislators on Maryland Tourism Day, Fri., Jan. 31, 2014 and on Maryland Arts Day, Wed., Feb. 12, 2014.
Shop Maryland Main Streets on Small Business Saturday
Between Black Friday and Cyber Monday is Small Business Saturday – a day established by American Express in 2010 that encourages shoppers across the country to patronize small businesses. In Maryland, a number of Main Street communities celebrate the day, which occurs Nov. 30 this year, with deals and discounts.