NEWS IN BRIEF

Task Force to Study Post-Labor Day School Start
As the first week of school for many Maryland counties is underway, a task force will be convening to determine the effects of delaying the start of the school year until after Labor Day.
Gov. O'Malley signed the legislation, Task Force to Study a Post-Labor Day Start Date for Maryland Public Schools, after public hearings and almost unanimous support in both the Senate and the House. Maryland Tourism Development Board Chair (MTDB) and owner, Shenanigan's Irish Pub, Ocean City, Greg Shockley; former MTBD board member and chief executive officer, Michael Haynie, Parkway Hospitality Management, Baltimore; and legislatively appointed board members, Senators John Astle and James Mathias serve on the task force.
Additionally, citing the benefits to Maryland families, small businesses and tourism overall, Comptroller Peter Franchot recently released an economic impact report completed by the Bureau of Revenue Estimates regarding a post-Labor Day start date for all Maryland public schools. The report stated that a delayed school start in Maryland would result in an additional $74.3 million in direct economic activity, including $3.7 million in new wages and a separate $7.7 million in state and local revenue.
Some media outlets' editorials have not supported the concept of a post-Labor Day school start date. The Maryland Hotel and Lodging Association, the Maryland Tourism Council and Maryland Chamber of Commerce recommends, "…it would be best until the task force has issued its findings before prejudging an issue that could have a profound effect on the economy and education system of Maryland."


Baltimore City, Cecil and Queen Anne's counties saw gains in lodging
The latest issue of the Maryland Lodging Monitor – the Office of Tourism's bi-annual report on Maryland lodging data supplied by Smith Travel Research, Inc., is available online and shows that Baltimore City, Cecil and Queen Anne's counties saw gains in all lodging metrics in first half 2013.
Lodging room demand statewide declined 1.6 percent, compared to the same six-month period in 2012. Maryland's demand was comparable with the region, and grew less than the nation's. The number of rooms available (room supply) remained relatively flat across the state (0.4 percent), region (0.3 percent), and nation (0.8 percent).
Average room rates for Maryland were at $112.11 – higher than the nation's $109.49 rate and lower than the regional rate of $119.80. Total room revenue for the state decreased slightly compared to the same six-month period in 2012 (-0.3 percent). Occupancy rates, which reflect changes in supply and demand for rooms, averaged 59.3 percent, 1.9 percent less than last year, compared to 60.8 percent occupancy rate and 1.3 percent decline for the region. The national occupancy rate grew 1.5 percent, averaging 61.8 percent.


Maryland on the Road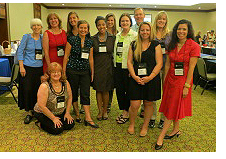 Maryland professionals have been at educational, networking and educational events that help elevate the state as a leisure destination. Fifteen county tourism professionals and staff from the Maryland Office of Tourism went to the Educational Seminars for Travel Organizations (ESTO) in Richmond. Additionally, 50 travel journalists were in attendance along with ten Maryland public relations professionals at the Mid-Atlantic Travel Public Relations Association (MATPRA) Marketplace in Alexandria.
(Pictured at MATPRA: Back row: Carolyn Laray, St. Mary's County; Connie Yingling, Maryland Office of Tourism; Leslie Cox, Baltimore; Christina Lippincott, Caroline County; Tom Riford, Washington County; Cat Carroll, Charles County Front row: Joyce Baki, Calvert County; Michelle Kershner, Fredrick County; Bethany Mattocks, Montgomery County; Susan Steckman, Anne Arundel County; Lori Boone and Rachelina Bonacci, Howard County)


Middle Bay: The Fish are Jumping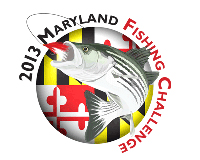 The Middle of the Chesapeake Bay is sporting some of the best fishing in years said the Department of Natural Resources. The uptick in activity has been certified as officials are validating catches during the Maryland Fishing Challenge.
The purpose of the Maryland Fishing Challenge is to showcase Maryland as a great destination for sport fishing, with affordable, accessible, diverse and high-quality fishing opportunities for Maryland's residents and visitors alike, and to help increase the number of youth and families participating in the sport of fishing.
Butler Named Harriet Tubman Underground Railroad
National Monument Superintendent
Northeast Regional Director Dennis R. Reidenbach has selected Cherie Butler as the first superintendent of Harriet Tubman Underground Railroad National Monument. Butler has been serving as the monument's acting superintendent since March of this year.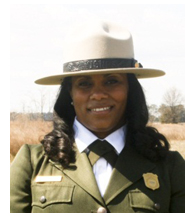 "Cherie has direct experience translating complex and sometimes controversial history into compelling public programming and interpretive media – an essential task in the development of the any new national park site," said Reidenbach. "All these skills will be essential, not just for the success of the Harriet Tubman Underground Railroad National Monument, but also to support the new leadership model for the National Underground Railroad Network to Freedom Program and develop strategies to further elevate one of our signature partnership programs."
Established by Presidential Proclamation on March 25, 2013, Harriet Tubman Underground Railroad National Monument commemorates the life of the most famous conductor on the Underground Railroad, a fearless woman who enabled many enslaved people to emancipate themselves and escape to freedom in the North. The new national monument is located on Maryland's Eastern Shore and includes large sections of landscapes that are significant to Tubman's early life in Dorchester County and evocative of her life as an enslaved person and conductor of the Underground Railroad.
Fam tour nets big results
Two years ago, a relationship was formed during a food tour of Frederick, which was partially sponsored by the Maryland Office of Tourism. The net result of the partnership between OTD and the Tourism Council of Frederick was this article in the New York Times.


SAVE THE DATE:
Mark your calendars for the 33rd Annual Maryland Tourism and Travel Summit to be held from November 6-8, 2013 at the Hotel at Arundel Preserve in Anne Arundel County.
Tickets for the Grand Prix of Baltimore — Labor Day weekend — are available on the race's web site.
Submit nominations for Maryland Tourism Awards
Nominations for the 2012 Maryland Tourism Awards — as selected by the Office of Tourism and the Maryland Tourism Development Board — will be accepted until September 16, 2013 at 5:00 p.m. Award categories are: Green/Sustainable Tourism; Visit Maryland (promotion of the state as a travel destination); Cultural/Heritage Tourism; and Economic Engine. A program overview and a nomination form are available online.
The awards pay tribute to individuals, organizations, businesses or governmental agencies that have significantly contributed to the efforts of the tourism office and board to boost jobs and economic impact in Maryland's tourism industry, and enhance the state's image to travelers. Winners will be announced at the Maryland Tourism and Travel Summit, November 7, 2013. For more information, call or e-mail Jennifer Jones, 410-767-6296.



Destination Maryland 2014
THE OFFICIAL GUIDE TO MARYLAND STATE TRAVEL
How do visitors learn about our great state? By reading Destination Maryland. It is filled with facts, features, photos and so much more. This is your #1 ad buy to reach consumers while they are planning their trip. Contact Steve Lassiter at steve.lassiter@mediatwo.com or 443-909-7828 for more information.
DEADLINE TO RESERVE SPACE IS OCTOBER 4TH.
Taste Maryland wine at September festival
Nearly 40 wineries from across the state will participate in the 30th annual Maryland Wine Festival, Sept. 21-22 at the Carroll County Farm Museum in Westminster. The festival features wine tastings, live music, local-restaurant fare, arts and crafts vendors, and wine seminars. Advance tickets are available online. The wine festival is held rain or shine. For information about Maryland wineries and events, call 800-237-WINE.