NEWS IN BRIEF

International convening at 1812 conference in Annapolis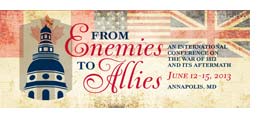 Visits to The Star-Spangled Banner Flag House, North Point State Battlefield and Todd's Inheritance were part of a Baltimore-area tour of War of 1812 locations for two dozen participants attending a conference about the early 19th-century war, held June 12-15 at the U.S. Naval Academy.
From Enemies to Allies: An International Conference on the War of 1812 and its Aftermath drew approximately 200 scholars and historians from around the globe for three days of discussions, panels and networking. The conference also included book signings and a "dine around with scholars," which allowed conference attendees to have dinner with a designated scholar at one of six Annapolis restaurants.
"I thought the quality of the presentations … was among the highest I have ever experienced at a history conference – on either side of the Atlantic," said American independent scholar John Busch, one of the presenters at the conference.
Gov. Martin O'Malley welcomed the group on Thursday morning, June 13. He also spoke about Maryland's oldest holiday, Defenders Day, the day that honors local troops who defended Baltimore on Sept. 12, 1814, from British attack – an assault that culminated in Fort McHenry's resistance to an all-night bombardment.
"We were commemorating and celebrating Defenders Day actually I think before we were commemorating and celebrating the Fourth of July as a national holiday," said O'Malley. "In Baltimore, it was Defenders day. So in Maryland, the War of 1812 has never been a forgotten war – far from it."


Tourism performance measures continue on positive track
The latest issue of the Maryland Tourism Monitor – the Office of Tourism's monthly report on results for marketing, tourism-related sales taxes, and leisure and hospitality jobs – is available online.
Among its findings: Sales tax revenue from tourism tax codes the first nine months of the fiscal year grew 1.04 percent over last year – more than five times the growth of overall sales tax collections, which grew 0.19 percent the same time frame. Additionally, with an increased advertising budget, the tourism office has seen 20 percent more web-advertising responses, 31 percent more print-advertising responses and an increase of 19 percent in unique visitors to the VisitMaryland.org website compared to the same time period last year.


Frederick, Historical Society present 'Star-Spangled' reunion
Nearly 200 years ago, Francis Scott Key, a Frederick native and attorney, wrote the lyrics that became "The Star-Spangled Banner" in the aftermath of an all-night British bombardment of Fort McHenry, as he gazed upon the fort from the vessel that he was detained upon. Key finished his poem the next day in Baltimore following his release, and gave it to his brother-in-law who took it to a local printer.
The Maryland Historical Society, which houses Key's original manuscript at its Baltimore museum and library, delivered it to the town of Frederick for a two-day reunion, June 14-15, called Anthem & Author Reunited. An afternoon graveside ceremony, June 15, at Frederick's Mount Olivet Cemetery where Key is buried, was the featured event of the weekend. Several thousand people participated in the reunion events.
Key's document arrived at the cemetery in a procession that included the Colonial Fife and Drum Corps, and other units of the U.S. Army Old Guard and National Capital Park Police. Frederick-born opera singer Tracie Luck and the Fort McHenry Guard Fife and Drum Corps also performed. Among the speakers were: John Fieseler, executive director, Tourism Council of Frederick County; Randy McClement, Frederick's mayor; Bill Pencek, executive director, Maryland War of 1812 Bicentennial Commission; George Rich, a trustee of the Maryland Historical Society; and Paul Plamann, a ranger at Fort McHenry National Monument and Historic Shrine.
During the two-day reunion tour, Frederick's tourism office also coordinated the unveiling of historical markers at the Frederick Courthouse Square (where Key began his career as an attorney), Harry Grove Stadium (home of the Frederick Keys minor-league baseball team), the Hessian Barracks (site of a militia encampment during the War of 1812) and the cemetery.


AVAM, Baltimore heritage area using bicentennial grants
A 520-ft. long sidewalk exhibition that visually interprets the words of the national anthem and a passport that encourages visitors to see a collection of sites and attractions that relate the local perspective of the War of 1812 are two of the projects that have received funding from the Maryland War of 1812 Bicentennial Commission's Star-Spangled 200 Grant Program.
American Visionary Art Museum (AVAM) plans to unveil A Very Visionary Star-Spangled Sidewalk in July. The sidewalk along Key Highway, on the edge of AVAM's campus just south of Baltimore's Inner Harbor, will depict Francis Scott Key's lyrics as colorful images. Volunteer artists are contributing to the design.
Baltimore National Heritage Area is promoting visits to 19 places in the Baltimore area with its War of 1812 Bicentennial Passport. Each destination provides a link to the war. The Maryland Historical Society, Sports Legends Museum at Camden Yards and the Historic Ships in Baltimore (including the USS Constellation) are among these destinations.
The grant program makes matching awards in four categories that stimulate investment in the bicentennial commemoration: education, programs and events, visitor experience and capital projects. Applications for the next round of awards must be submitted by Nov. 1. The last round of awards provided 22 Maryland nonprofits and government agencies with $2.1 million in matching grants.
Funding for the grant program comes from private contributions and surcharge proceeds distributed by the U.S. Mint following its sale of Star-Spangled Banner Commemorative Coins, which ended last December.

Frederick Film Festival returns for fifth year
Two venues in downtown Frederick – Weinberg Center for the Arts and The Delaplaine Visual Arts Education Center – will screen 56 films, representing the work of filmmakers from 26 countries, during the Frederick Film Festival (F3), June 28-30. A pre-release showing of the horror film V/H/S/2 with Frederick native Eduardo Sanchez (Blair Witch Project) introducing the film will be held June 27. And, an after-party event is set for opening night, June 28 at Brewer's Alley. Storyteller-musicians Zane and Hugh Campbell close out the festival June 30 at The Delaplaine after the showing of a documentary about the duo's family called New River: A Family Musical History Tour. The Maryland Film Office is a sponsor of the festival.
Online review forum salutes Maryland accommodations
Trip Advisor recently named 268 hotels, motels and B&Bs in Maryland as recipients of its Certificate of Excellence for 2013. The award goes to "establishments that consistently achieve outstanding traveler reviews," said a Trip Advisor representative. About 10 percent of the businesses listed on Trip Advisor receive this award.
Chautauqua performances depict historical figures
Rachel Carson, Amelia Earhart and Jackie Robinson come to life in the Maryland Humanities Council's Chautauqua program, July 5-14 at eight locations across the state. Chautauqua is a series of free-admission, living-history presentations in which actors portray distinguished figures of the past. This year's theme is "turning points in history." The Humanities Council began this annual summer series in 1995 at Garrett College in Western Maryland. Chautauqua was the name of an adult-education movement popular in rural America during the late-19th and early-20th centuries.
Bay-getaway contest includes stay at Cambridge resort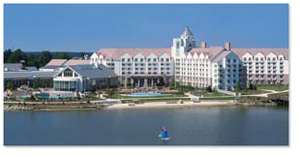 Visit the Maryland Office of Tourism's web site and enter to win a Chesapeake Bay getaway package that features a two-night stay at the Hyatt Regency Chesapeake Bay Golf Resort, Spa and Marina, located along the Choptank River in Cambridge. The package also includes a $250 shopping spree at Queenstown Premium Outlets and gift certificates for these other Dorchester County businesses: Blackwater Paddle and Pedal Adventures, Kay's at the Airport seafood restaurant, and Jimmie & Sook's Raw Bar and Grill.
Apply for funding with recreational trail projects
Maryland State Highway Administration (SHA) is now accepting applications for Recreational Trail Program funding for fiscal 2014. Applications must be submitted by July 1. Funding awards will be announced in the fall. The program encourages projects that develop and maintain recreational trails and trail-related facilities for both non-motorized and motorized recreational-trail uses. Priority projects will enhance Maryland's existing trail network, create connections between communities and natural or cultural areas, and promote tourism-related areas (i.e., Scenic Byways, Heritage Areas, Canal Towns, Main Streets and water trails). Submit applications online to Terry Maxwell at the SHA.