Visitation to Maryland increases 33.3 percent since 2007
Maryland welcomed 36.1 million domestic travelers in 2013, an increase of 2.2 percent from 2012 and an increase of 33.3 percent from 2007's 27.2 million visitors, according to a national survey of U.S. travelers conducted by D.K. Shifflet and Associates, a leading tourism industry research firm.
Growth has occurred in all segments since 2007– in both business and leisure, as well as both day trips and overnights. Maryland has increased market share 13.3 percent since 2007, outperforming national and regional trends.
"Our state's tourism industry is a powerful economic engine," said Dominick E. Murray, secretary, Maryland Department of Business and Economic Development. "Tourism is a major generator of jobs, employing more than 135,000 Marylanders. The impact of visitors proves that our investments in visitor experiences and tourism marketing provide valuable returns to tourism communities across the state from Oakland to Ocean City."
Maryland's 33.3 percent increase – representing an additional 9 million visitors in 2013 versus 2007 – was substantially greater than the 17.2 percent increase the United States saw during this same time period. Maryland's increase in visitation was significantly greater than the performance of other mid-Atlantic states. In comparison to 2007 visitor volume, Maryland has realized more growth than any state in the region, both overall and in the leisure segment.
"This report underscores the success of our strategic regional promotional efforts," said Margot A. Amelia, executive director of the Maryland Office of Tourism. "We focused our tourism marketing efforts on key feeder markets beginning FY2008, and began to communicate year-round to prospective visitors. Recent image/awareness and advertising effectiveness studies ensure we promote our most motivating messages and that our purchased media generates high returns on investment."


Maryland Kicks off Star-Spangled Summer with Selfie Photo Contest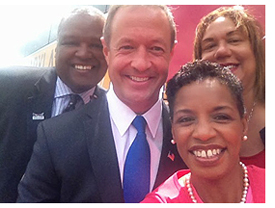 To celebrate Maryland's Star-Spangled Summer, during which multiple events will be held throughout the state to mark the 200th Anniversary of the writing of the National Anthem, the Maryland Office of Tourism is launching the Star-Spangled Selfie contest. Users are invited to pose for selfies in select locations and post them to social media channels using the hashtag #starspangledselfie for multiple chances to win prizes including VIP treatment during the Star-Spangled Spectacular Blue Angels Air Show.
For prize eligibility, participants must pose for their selfies at either of the following: in front of an American flag; at a War of 1812 icon such as Fort McHenry or other sites along the Star-Spangled Banner National Historic Trail; or with one of the Star-Spangled advertisements recently unveiled at Union Station in Washington, D.C.
"Maryland is excited to welcome all Americans to join in a virtual display of pride in our iconic National Anthem and flag," said Governor Martin O'Malley. "While the anthem was written here, it belongs to us all. I personally invite everyone to join me in sharing their #starspangledselfies this summer."
Selfies posted to Twitter, Instagram or the Maryland Office of Tourism's Facebook page with the #starspangledselfie hashtag will be entered to win prizes awarded on or about the 16th of each month. Full contest details and updates throughout the campaign, which runs from June 10 to September 14, are available at www.visitmaryland.org/selfie.
Vote For Favorite National Anthem Rendition
The Maryland State Arts Council and Star-Spangled 200 are asking Marylanders to decide who should win the Star-Spangled Sing-Off, a statewide National Anthem Singing Competition.
The competition called for Marylanders to record their solo, a capella rendition of the "Star-Spangled Banner," post it to YouTube and enter the contest by submitting a link to their performance.
"We received a number of remarkable entries from Marylanders of all ages," said Hannah Byron, Assistant Secretary for Tourism, Film and the Arts at the Maryland Department of Business and Economic Development. "From gospel style to folk, to more classical arrangements, it was moving to see and hear the personal interpretations of this iconic song, born in Maryland, but shared and loved by all Americans."
To vote for your favorite performance of The National Anthem, visit www.msac.org/singoff from Monday, June 9 through Friday, June 13.


Thirty-Five State Parks join Maryland Tourism Green Travel Program
Thirty-five state parks have been approved as the latest Maryland Green Travel Partners. Maryland Green Travel is a free and voluntary self-certification program to promote and recognize sustainable environmental practices by businesses in the tourism industry in Maryland.
Maryland Green Travel launched in November 2009 as part of the Governor's Smart, Green and Growing initiative. Membership in the program encourages accommodations, restaurants, attractions and other organizations to share information on the practices they have in place to reduce the environmental impact of their facilities and services. This information is then used to market the partners as an eco-friendly business on tourism's website and in printed marketing materials.
To become a partner, Maryland tourism businesses are encouraged to visit the Maryland Green Travel website at www.visitmaryland.org/green and complete an online, self-certification application of best practices.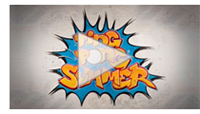 Ping-Pong Summer: A Media Darling
The movie that is an ode to summers spent in Ocean City, Ping Pong Summer, has been getting lots of media attention from Susan Sarandon on the Today Show to articles in The Washington Post and WTOP. Enjoy reading these articles at the beach!
Patriotic Participation Leading Up to Star-Spangled Spectacular
#StarSpangledSummer in Maryland
Star-Spangled 200, Inc. (SS200) recently announced its #StarSpangledSummer campaign to engage all Marylanders in celebrating the 200th anniversary of our national anthem. Maryland citizens are being encouraged to fly 15-star/15-stripe flags, the original design of the Star-Spangled Banner, plant patriotic gardens, and much more.
"All Maryland citizens can get involved in the #StarSpangledSummer by sharing their images on Facebook, Twitter and Instagram using – #StarSpangledSummer," said Ann Beegle, executive director of Star-Spangled 200, Inc. "There's truly something for everyone, from cake decorating to dressing the family dog in red, white and blue! We look forward to seeing the many creative ways people choose to celebrate."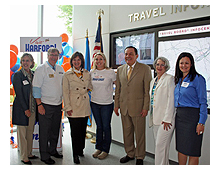 Visit Harford! Opens
Tourism leaders gathered at the Maryland House Travel Plaza to announce Visit Harford! Inc. Pictured from left to right: Hannah Byron, Asst. Secretary, Tourism, Film & The Arts; Jim Richardson, Harford County Director of Economic Development; Margot Amelia, Executive Director of Maryland Office of Tourism; Wini Roche, Manager Harford County Tourism; Carlos de Jesus, Director of Operations Areas USA; Jennifer Jones, Maryland Tourism Development Manager and Patti Parker, Director of Sales, Homewood Suites Visit Harford Chair Elect.
Assistant Secretary Tours Berlin
Hannah Byron (R), assistant secretary, Division of Tourism, Film and the Arts, Gee Williams (L), mayor of Berlin stopped by Cupcakes In Bloom, owner Shawnee Berzonski (C) while Byron was in town to discuss quality of life issues affecting tourism and the arts in the by sea community.
CRUSA German Sales Mission:

Three cities, 10 sales calls, trainings for 100 German travel counselors and one "Chesapeake Celebration" client event at the US Consul Generals' home. Partners included: the Maryland Office of Tourism, Virginia Beach CVB, Visit Norfolk and Claasen Communication
Columbia Festival of the Arts
June 13-28, Town Center
Star Spangled Banner: Anthem of Liberty Opens at IMAX
June 14, Maryland Science Center
Fourth Annual Maryland Traditions Folklife Festival
Saturday, June 14, Creative Alliance, Baltimore City
Ocean City Air Show
June 14-15
The National Anthem and the Star-Spangled Banner United
June 14 – July 6, Smithsonian National Museum of American History, Washington, D.C.
AFI Docs, The international documentary film festival
June 18 - June 22, AFI Silver Theater, Silver Spring plus the surrounding area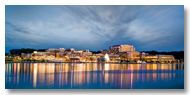 National Harbor Summer Getaway Sweepstakes
Enter for a chance to win a two night stay at Gaylord National Resort Hotel & Convention Center, Tanger Outlets and dining gift cards, boarding passes for water cruises, a ride on the brand new Capital Wheel, and more!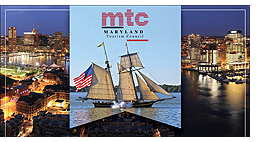 SAVE THE DATE: WEDNESDAY, JUNE 25, 2014 and plan to join the Maryland Tourism Council (MTC) for, TAKE PRIDE: The Baltimore Tourism Experience. Join industry leaders at an event where you will DISCOVER and CELEBRATE Baltimore tourism's bright future. DISCOVER: 3-5 p.m.: Panel discussion at the Maryland Science Center. CELEBRATE: 5-7 p.m.: Reception aboard the Pride of Baltimore II. An optional multi-media presentation of "The Baltimore Experience" follows at the Baltimore Visitor Center. For more information, please email Jill Feinberg.