NEWS IN BRIEF

Film festival benefits from online-sales hike, fifth day
Online ticket sales for the 15th annual Maryland Film Festival (MFF) – held May 8-12 – increased by 48 percent over last year's festival, said MFF founder and director Jed Dietz in an interview with The Baltimore Sun, published May 13.
Dietz also said walk-up sales for Friday through Sunday seemed to be about the same as last year, when the festival hosted a record-setting 22,000 patrons. And, with the addition of a fifth day to the festival, he said, attendance figures will certainly surpass last year's number.
The festival screened nearly 50 feature films and 75 short films at the Charles Theater and other venues in Baltimore's Station North Arts and Entertainment District.
In keeping with a festival tradition, John Waters introduced a film he had selected for the festival. Waters was also seen on screen in a film directed by Jeffrey Schwarz called I Am Divine – a narrative about the drag-queen actor who often appeared in Waters productions.
Arts Council pays tribute to recipients of artist grants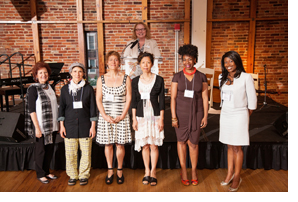 Eighty-seven Maryland artists were honored as the winners of the Maryland State Arts Council's 2013 Individual Artist Awards (IAA) during a free, public celebration and reception, May 20, at the American Visionary Art Museum, located by the southern edge of Baltimore's Inner Harbor.
In his keynote remarks, Baltimore writer Michael Downs, who received one of the awards for his novel Painless, spoke about the value that artists provide to their communities. Also, Maryland's 2013 Poetry Out Loud champion Blessed Sheriff, who placed second in the national Poetry Out Loud contest earlier this month in Washington, D.C., recited the poems that she used in the competition.
IAA artists collected grants of $1,000, $3,000 or $6,000. Out-of-state juries representing each artistic discipline reviewed nearly 600 applications anonymously before awarding the individual grants, which were determined solely on the basis of artistic merit. The Mid Atlantic Arts Foundation administers the selection process. The IAA program grants awards in 18 artistic disciplines, which are split into three groups. Grants are awarded for each discipline every third year.
Concerts help Preakness draw fourth-largest crowd
A crowd of 117, 203 witnessed an upset victory by a 15-1 horse, Oxbow, at the 138th Preakness Stakes, May 18 at Pimlico Race Course in Baltimore, said the Maryland Jockey Club. The turnout was the fourth largest in Preakness history. Officials said a forecast for rain, which did occur during part of the day, kept attendance below last year's record crowd of 121,309.

Lt. Gov. Anthony Brown presented the Woodlawn Vase to the owners of Oxbow on national television. The silver trophy, valued at $1 million in 1983, is viewed as the most valuable trophy in sports by virtue of that appraisal. Since 1953, when Native Dancer's owners decided not to take responsibility for possession of the Preakness trophy for a year, winning owners have received a $30,000 sterling replica of it, instead. The actual Woodlawn Vase stays at the Baltimore Museum of Art – except on Preakness Day, when an armed escort brings it to Pimlico.

Preakness Day featured the fifth annual InfieldFest – concerts by six bands, including Pitbull and Macklemore & Ryan Lewis. The Jockey Club has been using concerts at the Preakness to attract younger fans as a way to introduce them to horse racing.
Pimlico, which opened on Oct. 25, 1870, is the second-oldest horse track in the nation. Saratoga Race Course in New York held its first race in 1863, about a month after the Battle of Gettysburg.
View related story –
Not your father's Preakness: Music, safety become the new theme at Pimlico infield (The Washington Post)
Blue Star Museums promote access for military families
Forty-five museums across Maryland, including 10 in Baltimore, are currently associated with this year's Blue Star Museums program, which provides free admission for military families to participating museums.
The program – presented by the National Endowment for the Arts, Blue Star Families, U.S. Department of Defense and a record-breaking 2,000 American museums – runs from Memorial Day (May 27) through Labor Day (Sept. 2).
Historic London Town and Gardens in Edgewater (Anne Arundel County), College Park Aviation Museum (Prince George's County), Frostburg Museum (Allegany County), National Museum of Civil War Medicine in Frederick (Frederick County) and Ward Museum of Wildfowl Art in Salisbury (Wicomico County) are some of Maryland's Blue Star Museums.
The Blue Star Museums program is using social media to share relevant stories. Follow Blue Star Museums on Twitter, Facebook, or read the Blue Star Blog for profiles of participating museums, stories about military families and tips for getting the most out of museum visits.
Museums that wish to become Blue Star Museums may e-mail the National Endowment for the Arts, or call Wendy Clark at 202-682-5451.
Former DNR chief receives Sportsmen's Foundation award
The Maryland Legislative Sportsmen's Foundation presented John R. Griffin, former secretary at the Department of Natural Resources (DNR), with its Sportsmen's Best Friend of the Year Award at its 12th annual banquet and auction, May 15 in Annapolis.
"Hunting is a time-honored tradition in Maryland, and the state's sportsmen are among our most committed environmental stewards and conservationists," said Griffin, who left DNR to become Gov. O'Malley's new chief of staff on May 20. "I am honored to accept this award on behalf of the department's extraordinary team of dedicated natural resource professionals, who work to manage our fish and wildlife populations and provide extraordinary opportunities for sportsmen and women."
The Sportsmen's Foundation, based in Annapolis, is an advocacy group for outdoor sports enthusiasts that works – in collaboration with the bi-partisan Maryland Legislative Sportsmen's Caucus in the Maryland General Assembly – to conserve, promote and protect Maryland's open-space lands, wildlife and habitat. It also strives to protect individual rights to hunt, fish, trap, and use firearms in a lawful manner.
1812 conference offers look at state's role during war
The Maryland War of 1812 Bicentennial Commission, U.S. Naval Academy and U.S. Navy's Naval History and Heritage Command jointly stage a War of 1812 bicentennial conference at the Naval Academy in Annapolis, June 12 to June 15, titled From Enemies to Allies: An International Conference on the War of 1812 and its Aftermath.
Papers will be presented illuminating the significance of the war and the changes that resulted in domestic and international affairs for the U.S., Canada and Great Britain. Four panels of presenters will have a Maryland focus: "Privateers," "The Enslaved Chesapeake," "African-American Combatants" and "Chesapeake Victims."
Conference registration includes a reception and tour of Seas, Lakes & Bay: The Naval War of 1812, a new exhibit at the Naval Academy. Pre-conference tours of sites linked to Maryland's role in the War of 1812 are available on June 12. Register for the conference online. For more information, call or e-mail Kathi Ash, 410-767-6341.
Maryland cultural traditions on display at annual festival
The Maryland Traditions Folklife Festival will be held June 15 at the Creative Alliance at the Patterson in East Baltimore, June 15. – As the folk-life program of the Maryland State Arts Council, the festival is an indoor-outdoor arts showcase rooted in multi-cultural appeal. A Native American dance troupe, Khmer classical performers, bluegrass band and Baltimore-based doo-wop group are among the day's entertainers. Visitors can also indulge in traditional Maryland food and beverage choices, like Smith Island cake and locally crafted beer. Free parking and shuttle service are available.
Annapolis CVB hosts green-travel talk, May 30
A Maryland Green Travel (MGT) "help-desk" session for attractions, restaurants and lodging operators will be held Thursday, May 30, 1 to 4 p.m. at the Annapolis & Anne Arundel County Conference and Visitors Bureau (AACCVB), 26 West St. in Annapolis. Representatives of the program will discuss how businesses can benefit from MGT's self-certification green program and how to navigate the application process. AACCVB's online green program will also be a topic of conversation. E-mail MGT for free reservations.
Bay-getaway contest includes stay at Cambridge resort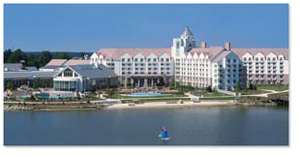 Visit the Maryland Office of Tourism's web site and enter to win a Chesapeake Bay getaway package that features a two-night stay at the Hyatt Regency Chesapeake Bay Golf Resort, Spa and Marina, located along the Choptank River in Cambridge. The package also includes a $250 shopping spree at Queenstown Premium Outlets and gift certificates for these other Dorchester County businesses: Blackwater Paddle and Pedal Adventures, Kay's at the Airport seafood restaurant, and Jimmie & Sook's Raw Bar and Grill.
Apply for funding with recreational trail projects
Maryland State Highway Administration (SHA) is now accepting applications for Recreational Trail Program funding for fiscal 2014. Applications must be submitted by July 1. Funding awards will be announced in the fall. The program encourages projects that develop and maintain recreational trails and trail-related facilities for both non-motorized and motorized recreational-trail uses. Priority projects will enhance Maryland's existing trail network, create connections between communities and natural or cultural areas, and promote tourism-related areas (i.e., Scenic Byways, Heritage Areas, Canal Towns, Main Streets and water trails). Submit applications online to Terry Maxwell at the SHA.