NEWS IN BRIEF


1812 bicentennial projects win $2.1 million in grants
Twenty-two nonprofit and government organizations are the recipients of $2.1 million in awards from Maryland's Star-Spangled 200 Grant Program. Senate President Thomas V. Mike Miller and Department of Business and Economic Development Secretary Dominick Murray announced the grant recipients during a morning event at the State House in Annapolis, Wednesday, April 10.
The awards – representing the program's third round of grants – provide matching funds for 23 bicentennial projects tied to programming, education, visitor experience and capital improvement. Funding for the grant program comes from surcharge proceeds generated by the U.S. Mint's sale of Star-Spangled Banner Commemorative Coins on behalf of the Maryland War of 1812 Bicentennial Commission, private contributions made to Star-Spangled 200, Inc. and state appropriation.
More than $400,000 in awards will support Chesapeake Campaign projects, which commemorate the British invasion (1813-1814) of towns along the edge of the bay. The city of Havre de Grace, one of the award recipients, plans a May 3-5 festival that launches the bicentennial's Chesapeake Campaign – a series of events and festivals at locations around the bay along the Star-Spangled Banner National Historic Trail, which runs through the summer of 2014.
Other award recipients are: Baltimore County Department of Planning; Dundalk Patapsco Neck Historical Society; Anacostia Trails Heritage Area; Foundation for Community Partnerships; Commissioners of Leonardtown; Living Classrooms Foundation; Star-Spangled 200, Inc.; Friends of Kent County, Maryland War of 1812; Jefferson Patterson Park and Museum; Fort McHenry National Monument and Historic Shrine; Baltimore National Heritage Area; Town of St. Michaels; George and Carmel D. Aman Memorial Trust; Calvert County Government; Baltimore City; Historic Annapolis Foundation; The Society for the Preservation of Federal Hill and Fells Point; Civic Works; the Maryland Academy of Sciences; Star-Spangled Banner Flag House; and Anne Arundel County Trust for Historic Preservation.


Officials seek tall ships for 1812 extravaganza in 2014
When Maryland's three-year War of 1812 bicentennial commemoration closes in September 2014 with a grand finale at Fort McHenry in Baltimore, the city's Inner Harbor – if local and state officials have their way — will abound with tall ships and naval gray-hulls from around the world.
Recently, officials gave their 2014 pitch to 46 naval attaches from 40 countries during a familiarization tour of the city that included stops at Fort McHenry, World Trade Center, Camden Yards and the USS Constellation.
"There are a number of ships we're interested in, and we hope to have 10 or more lined up by the time we're done," said Nan Nawrocki, president of Sail Baltimore, as reported by the Baltimore Sun. Sail Baltimore, a nonprofit established in 1975 in preparation for Operation Sail 1976 and the nation's bicentennial anniversary, is dedicated to enticing ships to the city.
Star-Spangled Sailabration – the international maritime festival that launched the national 1812 bicentennial commemoration last June in Baltimore – drew more than three dozen tall ships and gray-hulls. The free, week-long event attracted 1.5 million visitors and produced a $166 million economic boost for Maryland, according to a report released last fall by Star-Spangled 200, Inc.
View additional news coverage


Legislature enhances program to entice film productions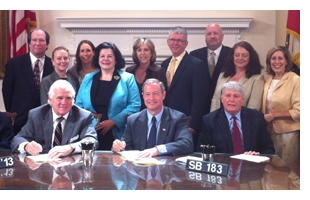 The Maryland General Assembly has raised the state's tax-credit program for TV and film productions to $25 million for fiscal 2014. Sponsored by Sen. Ed Kasemeyer (Baltimore and Howard counties), the new legislation maintains the Maryland Film Production Employment Act of 2011, which provides $7.5 million annually in tax credits through 2016 while increasing the program ceiling for 2014.
"The passage of this legislation means that more jobs will be created in Maryland's film industry," said Jack Gerbes, director of the Maryland Film Office, "and more revenue will be generated for Maryland businesses."
According to Gerbes:
Season one of the HBO series Veep led to the hiring of 978 Maryland crew, actors and extras. The production also purchased or rented goods and services from 1,141 Maryland businesses.
Season one of the Netflix series House of Cards led to the hiring of more than 2,100 Marylanders. The production did business with 1,800-plus Maryland vendors.
The independent film Better Living thru Chemistry (filmed in Ocean City) purchased or rented goods and services from 570 Maryland businesses.
(Photo) Senate President Thomas V. Mike Miller, Jr., Gov. O'Malley and House Speaker Michael Busch at bill signing for passage of the state's tax-credit program for TV and film productions.


New travel guide has events calendar, savings passport
The Maryland Office of Tourism has released its 2013 edition of Destination Maryland: The Official Guide to Maryland State Travel – a free, magazine-style guide that highlights the state's five regions and offers trip suggestions with listings for 2,000 attractions, state and national parks, lodging and travel services.
This year's issue also includes (for the first time) the official Maryland Calendar of Events. "Now, as travelers plan their visits to Maryland, they have everything they need right at their fingertips," said Margo Amelia, executive director of the tourism office.
A "Maryland Welcome! Passport" – good for up to $3,500 in savings at 250 participating attractions, restaurants, retailers and lodging locations – is still a mainstay of the guide, as are sections about Scenic Byways, Chesapeake Bay, outdoor adventure and commemorative events tied to the Civil War, War of 1812 and Harriet Tubman, the Maryland native who became a prominent conductor of the Underground Railroad.
Destination Maryland is available by calling 1-800-719-5900, or through Maryland's official travel web site: www.VisitMaryland.org.
During 2011, 34.4 million domestic travelers visited Maryland, an increase of 6.8 percent over the previous year. These visitors spent more than $14.3 billion on travel-related expenses in 2011, while generating close to $2 billion in state and local taxes, and providing more than 130,000 jobs for Marylanders.
Wine promoters get a taste of Md. wine
Drink Local Wine (DLW) – an organization dedicated to promoting regional wines across the nation as part of the local food movement – spotlights Maryland wine at its fifth annual conference, April 13 at the Tremont Suites Hotel and Camden Yards in Baltimore. The conference is expected to draw wine bloggers, writers and columnists from the U.S. and Canada. Margot Amelia, executive director of the Maryland Office of Tourism, will be one of the featured speakers.
The conference includes panel discussions about Maryland's wine industry, wine seminars and an upscale lunch served with Maryland wine. Conference participants can also sip Maryland wines and then tweet about them during a "Grand Tasting and Twitter Taste-Off."
"We're growing a world of wine styles and varieties throughout Maryland, and we're excited to share them through Drink Local Wine," said Kevin Atticks, executive director of the Maryland Wine Association, on DLW's web site. The association is the conference's primary sponsor.
Maryland has 61 wineries, nearly 50 percent more than it did in 2010. Most of the wineries are in central Maryland's Piedmont Plateau. Additional wineries are in the state's southern and western regions, and the Eastern Shore.
Registration for the conference is available online.
Arts Council at Pre-Recession Funding
The recent legislative session brought the Maryland State Arts Council's funding back to its pre-recession funding level of $15.2 million. With the leadership of Gov. O'Malley, and the support of the General Assembly, House Bill 1337 passed, which calls for the inclusion of public art in all state funded construction projects. This ensures that public art is included in all state construction projects, including renovations, of 15,000 square feet or more and ensures that art created through this funding is the property of the Maryland Public Art Commission.
Argo writer at Hagerstown film festival's opening night
A screening of the Oscar-winning film Argo – based on the true story of former CIA officer Tony Mendez's rescue of six U.S. diplomats from Iran during the 1979 Iranian hostage crisis – opens the second Maryland International Film Festival at the Maryland Theatre in Hagerstown, April 11 at 6:45 p.m. Mendez, who resides in Washington County, will attend and participate in a Q & A session. The three-day festival runs April 11-13, featuring 50 films from 11 countries. Hagerstown-Washington County Convention and Visitors Bureau is a festival sponsor. See related story about Mendez in Frederick News-Post.
Arts Council's strategic-planning sessions wrap up
The Maryland State Arts Council has two more public forums in April (listed below), where open discussion will consider how the Arts Council can best serve art communities across the state and update its current five-year plan. Registration is available by clicking on the name of the region. The meetings are the last in a series of six forums.
Learn how to entice international tourism
Capital Region USA (CRUSA) – in conjunction with the Maryland Office of Tourism and Visit Baltimore – presents a seminar, Monday, May 20, which shows hoteliers how to tap into the international market. The seminar runs 2 to 4:30 p.m. at Visit Baltimore's office, 100 Light St. (12th floor) near the city's Inner Harbor. Registration is free, but space is limited. Speakers and topics include: Julie Katz, managing director, Tour Mappers – Working with an FIT (Frequent Independent Program); Kolja Kassner Sr., vice-president, CANUSA Touristik (Germany) – How overseas tour operators drive business to a destination; and Andrea Evans, account director, Miles Partnership (formerly Miles Media) – Reaching consumers through online channels.
SHA offers funding for alternative-transportation projects
The Maryland Department of Transportation's State Highway Administration (SHA) seeks proposals for transportation-related projects to be partially funded through the newly established Transportation Alternatives Program (TAP). With $20 million in federal money available for fiscal 2013 and 2014, TAP can fund such alternative transportation projects as the planning, design and construction of on- and off-road facilities for pedestrians, bicyclists and other non-motorized transportation. Program guidelines and applications are available online. Applications may be submitted to SHA now through May 15. For eligibility information, call or e-mail Jessica Silwick, SHA's Transportation Alternatives liaison, 410-545-5675.
Registration open for 1812 conference in June
The Maryland War of 1812 Bicentennial Commission, U.S. Naval Academy and U.S. Navy's Naval History and Heritage Command will jointly host a War of 1812 bicentennial conference at the Naval Academy in Annapolis, June 12 to June 15, which is titled From Enemies to Allies: An International Conference on the War of 1812 and its Aftermath. Scholarly papers will be presented on topics linked to the historic significance of the war and the changes that resulted in domestic and international affairs for the U.S., Canada and Great Britain. Pre-conference tours of sites linked to Maryland's role in the War of 1812 are available on Wednesday, June 12. Register for the conference online. For more information, call or e-mail Kathi Ash, 410-767-6341.