Maryland's Banner Year Touted at Two Press Events
The schedule for Star-Spangled Summer 2014, that will take place from Flag Day, June 14, through Defender's Day, Sept. 14, to commemorate the 200th anniversary of the writing of the National Anthem, was announced in two phases. The first phase of the announcement was at a press conference in Baltimore and the second to the journalists and editors of top-notch media outlets in New York.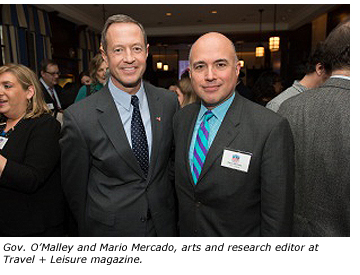 The announcement to the home-town team included remarks from Baltimore Mayor Stephanie Rawlings-Blake, who challenged the organizing committee and the promoters of Star-Spangled Spectacular to surpass the record-setting attendance and economic impact of 2012's Sailabration. The Mayor was joined by representatives from the Maryland War of 1812 Bicentennial Commission, the Maryland Historical Society and Visit Baltimore.
Gov. O'Malley traveled to New York to share with the journalists the details of Star-Spangled Spectacular, September 6 – 14, a free festival that celebrates the 200th anniversary of the National Anthem. He talked of the significance of the events of 200 years ago and their importance to the creation of unified republic and spurring a young nation to greatness.
Of the events planned for the Star-Spangled Spectacular, the Governor said, "Maryland has been planning this celebration for 200 years."
Some of the media represented at the event included: TravelMom; Travel and Leisure; New York Times; Ladies Home Journal and Parent.


Maryland's Wine Country Highlighted in Passport Experience Events
Maryland's wine country has grown three-fold in the last decade from twenty wineries in 2003 to more than 60 wineries today. The wineries and wine trails are hosting Passport Experience Events on weekends starting this month and continuing through March to showcase what the wineries have to offer.
"Marylanders are typically familiar with only a few of our wineries," said Kevin Atticks, executive director, Maryland Wineries Association. "With now more than 60 wineries, it's time to explore!"
With the purchase of a $25 Passport Experience Pass, travelers will enjoy complimentary tastings of up to six wines at participating wineries, plus wine-related savings and products.
Maryland Wine Trails are hosting the Passport Experience on the following dates: Piedmont Wine Trail: January 25-26; Carroll Wine Trail: February 8-9; Frederick and Antietam Highlands Wine trails: February 22-23; Chesapeake Wine Trail: March 15-16 and Patuxent Wine Trail: March 22-23
Purchase passes and find event details online.


Ocean City to Sundance: Ready for our Close-Up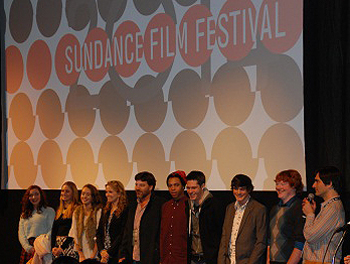 Writer / Director Mike Tully (on right with microphone) along with cast, answers questions from the audience after the world premiere of Ping Pong Summer at Sundance.
Ping Pong Summer, a film that is an ode to summers spent in Ocean City, premiered at the prestigious Sundance Film Festival in Park City, Utah on Jan. 16. The film received a standing ovation from the sold out audience, including a large contingent from Ocean City and Maryland. The film, which is a coming of age story set Ocean City in 1985, filmed in the fall of 2012 and stars Susan Sarandon, Lea Thompson, John Hannah and Amy Sedaris. The coming-of-age story was written and directed by Maryland native, Michael Tully.
Immediately following Sundance, Ping Pong Summer will screen at the Rotterdam International Film Festival in The Netherlands, where European audiences will be introduced to the charm of Ocean City, Maryland.


Berlin vies to be Coolest Small Town in America
Budget Travel announced that Berlin has been named a finalist for the "America's Coolest Small Town".
"This truly is an instance of voting early and often" said Lisa Challenger, tourism director, Worcester County Office of Tourism. "Hollywood recognized Berlin when they cast the town in major motion pictures like Runaway Bride and Tuck Everlasting, and with this win even more people will know about the charm of Maryland's Eastern Shore. We are encouraging everyone to share on all their social media channels and put Berlin in the national spotlight."
The people of Berlin created a website to engage the community to continue to vote for #MDsCoolestSmallTown at www.coolberlin.org. CLICK HERE TO VOTE. Voting will continue until February 25th. As of press time, Berlin was commanding a small lead.
Tourism Tax Codes grow 1.6 percent in first four months
The latest issue of the Maryland Tourism Monitor – the Office of Tourism's monthly report on metrics for marketing, tourism-related sales taxes, lodging and transportation trends, and leisure and hospitality jobs – is available online. Among its findings: sales tax revenue from tourism tax codes grew 1.6 percent the first four months of the fiscal year; the addition of table games led to an increase in gaming revenue of 55.2 percent; and transient business and government travel remained soft through October, based upon Smith Travel Research trends.
Make Annapolis a Romantic Winner
Voting is open now, runs for four weeks only and ends on Mon. Jan. 27 at 11:59am EST. You can rock the vote at http://www.10best.com/awards/travel/best-romantic-n-american-getaway/. Nominee supporters can vote once per day, per category.
To follow live voting action and discover the most active campaigns for the award, search #10BestChoice on Twitter (we are @10Best). You can also find us on Facebook, Google+ and Pinterest.
Online Registration opens for Tourism Day in Annapolis
The tourism community will gather in Annapolis on January 31 for Tourism Day. Professionals from around the state will meet at the Miller Senate office building to carry their tourism message to the legislature. The event is organized by the Maryland Tourism Council (MTC) and the Maryland Destination Marketing Organizations (MDMO). Online registration is available now!
Online registration opens for Maryland Arts Day
Arts advocates from across the state will voice their support for Maryland arts funding during meetings with state legislators on Maryland Arts Day, Wednesday, Feb. 20 at the Miller Senate Building in Annapolis. Maryland Citizens for the Arts (MCA), an advocacy group for Maryland artists and arts organizations, sponsors the annual event. Registration for Maryland Arts Day is available online.