NEWS IN BRIEF

Tourism generates substantial return on state investment
The Maryland Office of Tourism Development (OTD), an agency of the Maryland Department of Business and Economic Development (DBED), announced that tourism in Maryland is on the rise, with a 4.6 percent increase in spending from visitors to the State in 2012. The Fiscal Year 2013 Tourism Development Annual Report highlights a variety of performance measures that evaluate the effectiveness of the State's tourism efforts as well as the impact the travel and tourism industry has on Maryland's economy.
"Tourism has been and continues to be a powerful economic engine for Maryland," said Dominick E. Murray, Secretary, DBED. "More than 135,000 Marylanders were directly employed in the tourism industry in 2012, with a payroll of $4.5 billion. And the tourism industry not only creates and sustains jobs, it generates substantial tax revenue and business income."
Maryland tourists and travelers spent $14.9 billion on travel expenses in 2012, based on The Economic Impact of Tourism in Maryland – Calendar Year 2012 Tourism Satellite Account conducted by Tourism Economics, an Oxford Economics company. Local transportation, food and beverage, and lodging each account for about 20 percent of visitor spending, followed by spending on retail, air and entertainment. Visitor spending has grown by more than four percent in each of the last three years.
While the results of a Tourism Satellite Account are only available on an annual retrospective basis, many performance metrics, including the Tourism Promotion Act sales tax codes, are available on a more frequent and timely basis. The Maryland Comptroller's office reported that the formula utilized in the Tourism Promotion Act generated $381.4 million in Fiscal Year 2013, an increase of 1 percent from Fiscal Year 2012. Since Fiscal Year 2007, sales tax revenues attributable to tourism have grown 31.4 percent, far outperforming the 19.7 percent growth of overall sales tax collections.
The number of visitors traveling in the state has also been on the upswing. Maryland welcomed 35.4 million domestic visitors in 2012, an increase of 2.9 percent over 2011.
"The Annual Report is a testament to our strategic regional promotional efforts," said Margot Amelia, executive director of the Maryland Office of Tourism. "For the past several years, we have focused our marketing efforts on the key feeder markets of Washington, D.C., Philadelphia and Baltimore, including year-round communication through digital and traditional media, as well as consumer research to crystalize key messaging."
Visitation in 2012 was 30 percent greater than 2007, when the state counted 27.2 million visitors. This 30 percent increase was substantially greater than the 9.2 percent increase in tourism across the nation and greater than the rate for other mid-Atlantic states.
Revisiting Maryland in 2013 through Social Media
The Likes have spoken. The Maryland Tourism Facebook community voted with their clicks, identifying several top moments and scenic favorites in social media over the last year. These most popular images were selected from the daily "Maryland in Focus" photos shared across Maryland Tourism's social media channels. More than 15 talented photographers contributed their work over the course of the year.
The Facebook community loved images with architectural features: skylines, bridges, and lighthouses, especially when they were highlighted by gorgeous sunrises and sunsets. Also popular were seasonal images of spring blossoms, fall foliage and holiday light displays. Maryland's landscapes and waterscapes are well loved. The most popular moment on Facebook in 2013 was a celebration of the Ravens Super Bowl win in February: "Home of the World Champions!"
For 2014, Maryland's fans on social media are looking forward to many more adventures: scenic trips, culinary explorations, outdoor activities, and waterfront fun. One community member resolved to take day trips through half the Maryland counties and "experience the local scenery, food, shops and entertainment."
Join Facebook, Twitter, and Google+ communities to see what's next!


Lt. Governor Announces 2014 State Tax Credits for Historic Renovation
Lt. Governor Anthony G. Brown joined Maryland Department of Planning (MDP) Secretary Richard Hall and Department of Business and Economic Development (DBED) Secretary Dominick Murray joined for a press conference on December 23 at the Parkway Theater on North Avenue to announce $10 million in state tax credits that will fund restoration projects at 10 historic buildings across Maryland.
"We're committed to making all of our neighborhoods — in Baltimore and throughout Maryland — great places to live, work, and visit," said Lt. Governor Anthony Brown. "The Sustainable Communities Tax Credit is an important tool in that effort, and this year's investment will help leverage $121 million worth of construction while creating 722 jobs in neighborhoods throughout our state."
The press announcement's location at the Parkway Theater was representative of the potential of the tax credit program to build on other state revitalization efforts, such as the Maryland Arts and Entertainment Districts program, administered by the State Department of Business and Economic Development. The theater is the latest redevelopment project in the state-designated Station North Arts & Entertainment District.
"Through partnerships with public and private investors, Maryland's A&E Districts are helping revitalize communities across the State," said Secretary Murray. "This new wave of tax credits from the Maryland Department of Planning secures an additional investment of nearly $17 million in four Maryland A&E Districts, supporting an upward trend of development and revitalization."
Attending the event was Hannah Byron, assistant secretary, Tourism, Film and the Arts who said, "The Sustainable Communities Tax Credit Program, scheduled to expire next June, is an investment in Maryland's future for which reauthorization will be considered in the 2014 legislative session."

New Year Resolution: See More of Maryland
The New Year is traditionally observed by making resolutions that include lists of things we would like to do in the coming months. Some may be life-changing, once-in-a-lifetime, bucket list-worthy items; others are simple and easily achievable. Many are tied to emerging trends.
"A new trend going into 2014 is wellness tourism, which encompasses activities designed to improve health, happiness and productivity," says Margot Amelia, executive director of the state tourism office. "Maryland's diverse attractions and special events dovetail nicely with this trend and with standard New Year's resolutions to get closer to family, find work to life balance, become healthier, spend less and save more, get organized, learn something new, and enjoy life to the fullest."
To see a full 12 months of travel ideas, click here.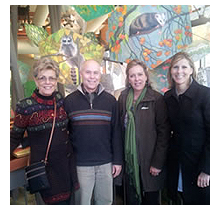 Office of Tourism officials tour Robinson Nature Center
Tourism, Film and the Arts assistant secretary Hannah Byron and Office of Tourism's Marci Ross tour the Robinson Nature Center with John R. Byrd, director, Howard County Parks and Recreation and Sylvia Ramsey, vice-chair of the Howard County Recreation and Parks Board of Directors. The purpose of the tour was to familiarize state staff with the center's exhibits, trails, programs, event space and green construction process.
Maryland Traditions presents the Alta Awards
January 18, 6:00 p.m.
Cultural Arts Center, Montgomery College
USA TODAY Readers' Choice Nomination: Make Annapolis a Romantic Winner
The nominees for Best Romantic North American Getaway were announced for the USA Today's Reader Choice and Annapolis, Maryland is one of 20 finalists competing for a spot in the winners list. Voting for North America's Best Romantic Getaway is now open and runs through Monday, January 27th, 2014 at 11:59am EST. You can vote for Annapolis at http://www.10best.com/awards/travel/best-romantic-n-american-getaway/.
Advocate for tourism at Taste of Maryland
The Maryland Tourism Council and the Restaurant Association of Maryland, in conjunction with the Maryland Association of Destination Marketing Organizations and the Maryland Hotel and Lodging Association, present the 23rd annual Taste of Maryland Legislative Reception, Monday, Jan. 20, 5 to 7:30 p.m. at the Loews Annapolis. For online registration click here or to register by phone please call Hilary Yeh, Marketing & Special Events Coordinator at the Restaurant Association of Maryland (410-290-6800) or email.
Online Registration opens for Tourism Day in Annapolis
The tourism community will gather in Annapolis on January 31 for Tourism Day. Professionals from around the state will meet at the Miller Senate office building to carry their tourism message to the legislature. The event is organized by the Maryland Tourism Council (MTC) and the Maryland Destination Marketing Organizations (MDMO). Online registration is available now!
Online registration opens for Maryland Arts Day
Arts advocates from across the state will voice their support for Maryland arts funding during meetings with state legislators on Maryland Arts Day, Wednesday, Feb. 20 at the Miller Senate Building in Annapolis. Maryland Citizens for the Arts (MCA), an advocacy group for Maryland artists and arts organizations, sponsors the annual event. Registration for Maryland Arts Day is available online.